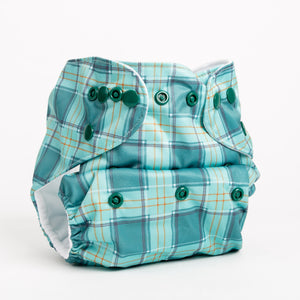 Pepi's Designer Collection makes baby's bum even more adorable (if that's possible) – with a range of fun, playful artworks and colourways. Designed by a mum and ethically made featuring pepi's signature prints – these nappies make nappy changing simple, cost-effective and eco-friendly. Perfect if you're still getting the hang of reusable cloth nappies, and a helping hand for whanau (extended family) and daycare staff who also change your baby.

As your baby grows – which happens so quickly – simply adjust the size of the nappy using the snaps, to fit from 3.5kg to 17kgs.
Each nappy has a generous pocket for absorbent inserts, and includes two of these, providing up to eight layers of absorbency.

If extra absorbency is needed, add our thin, yet absorbent 4 layer bamboo terry inserts inside the pocket, without adding lots of extra bulk.
Print is designed by an artist.
Why you (and bubs) will love pēpi reusable nappies:

Designed to grow as baby does: one-size-fits-most is perfect for babies weighing 3.5-17kg
Breathable, waterproof polyurethane laminated polyester (PUL) shell keeps wetness contained. No need to buy a separate wrap
Suede interior draws moisture away from baby's bum
Double gusset to stop leaks and poop explosions
Double row of snaps, with hip snaps to prevent 'wing droop'
Crossover front snaps give a better fit, even for smaller babies
Customisable: add an extra insert for more absorbency if needed
Each nappy comes with two bamboo mix inserts: a light wetter may only need 1, most will need 2. 

Our inserts don't shrink in the wash!

Comfy, soft and free of 'nasties', like lead, nickel and azo dyes. 

OEKO- TEX and the nappies pass the SGS Certificate. Vegan

Includes a handy user guide with each purchase